Tampa Bay Buccaneers and Kansas City Chiefs will be in action in Florida this weekend (February 7th) at the Super Bowl LV. The game will witness a Clash-of-the-Giants in which Kansas City Chiefs Quarterback Mahomes – last super bowl's most valuable player – will help his team fight for supremacy over Tampa Bay's 43 year old veteran and six-time Super Bowl Winner Tom Brady …who some say is American Football's greatest-ever player!
It's great news for American Football fans that this year's game is going ahead – albeit with limited in-person attendance. Those who do attend will be able to take time out from the game to recharge their batteries – now that Lumos Solar have installed twelve of their stylish SolarZone seating structures.
Under the shade of a canopy of Solar Panels Super Bowl visitors will be able to sit down, plug in their laptop, recharge the battery and browse the internet at the same time. Or they can simply chat with friends whilst waiting for their mobile phone to recharge from a wireless recharge pad located on the table. All this is available from the smartest bench you'll ever use!
The shade canopy consists of six solar panels capable of harvesting 1800Wp – plenty of energy for a stream of visitors powering-up throughout the day. The table hosts four wireless charging pads for mobile phones – and four outdoor 110VAC laptop-charging sockets. Four integral benches face each other at a discrete distance providing room to work whilst at the same time maintaining social distance.
Because the power source for SolarZone seating structures is the sun itself, SolarZone bench sets do not require connection to an established power circuit or the grid. And they can be sited where they will be most useful to customers or site visitors, without the need for any site preparation or foundations.
By night the benches are lit by four separate strip lights incorporated on the canopy support structure (a neat design feature!) ensuring that the benches are just as handy after the hours of darkness as they are during the day. Thanks to the battery bank, the chargers just keep giving – allowing visitors to work, keep in touch, or simply socialise in a lit environment.
The lighting-up times for the benches are user-programmable. A function of the Solar Charger – known as Streetlight – follows the ever-changing times of dawn/dusk with the season  and alters SolarZone's lighting-up time automatically. Times can be re-programmed, and the SolarZone's power system data can be monitored by an administrator in seconds using the Bluetooth connection available in SolarZone's electrical installation.
Powder coating ensures that the units will stand up to the elements – still looking great after many years of service and, because they are available in an unlimited rage of colours, they will echo any corporate branding.
What's on board?
A Cerbo GX communications device harmonizes and controls all  power devices, and allows their data to be managed remotely using Victron Energy's free-to-use platform VRM.
Maximising the solar energy harvest there is a Victron MPPT SmartSolar 150/45 charge controller with built-in MC4 connectors. The solar charger provides a controlled charge to the battery – the moment any current is drawn from the power sockets by users the new demand is compensated for by drawing more energy from the panels.
Given the very large solar array in this installation, the Cerbo GX device and DVCC function are able to protect the batteries from over-current by limiting the battery charging current whilst still allowing maximum solar power to run the loads.
 Solar energy is stored in two slim Telecom batteries with a capacity of 200Ah at 24V – ensuring there will be enough energy for 8 hours of illumination together with 4 hours of phone charging and 8 hours of laptop charging per day.
Power for the four 110volt AC laptop charging sockets is supplied by a Phoenix Inverter 24/800
Keeping stock of energy in/out and much more besides there is a BMV-700 battery monitor
An Orion Tr 24/12 DC-DC converter allows 12V lighting run from a 24V battery source.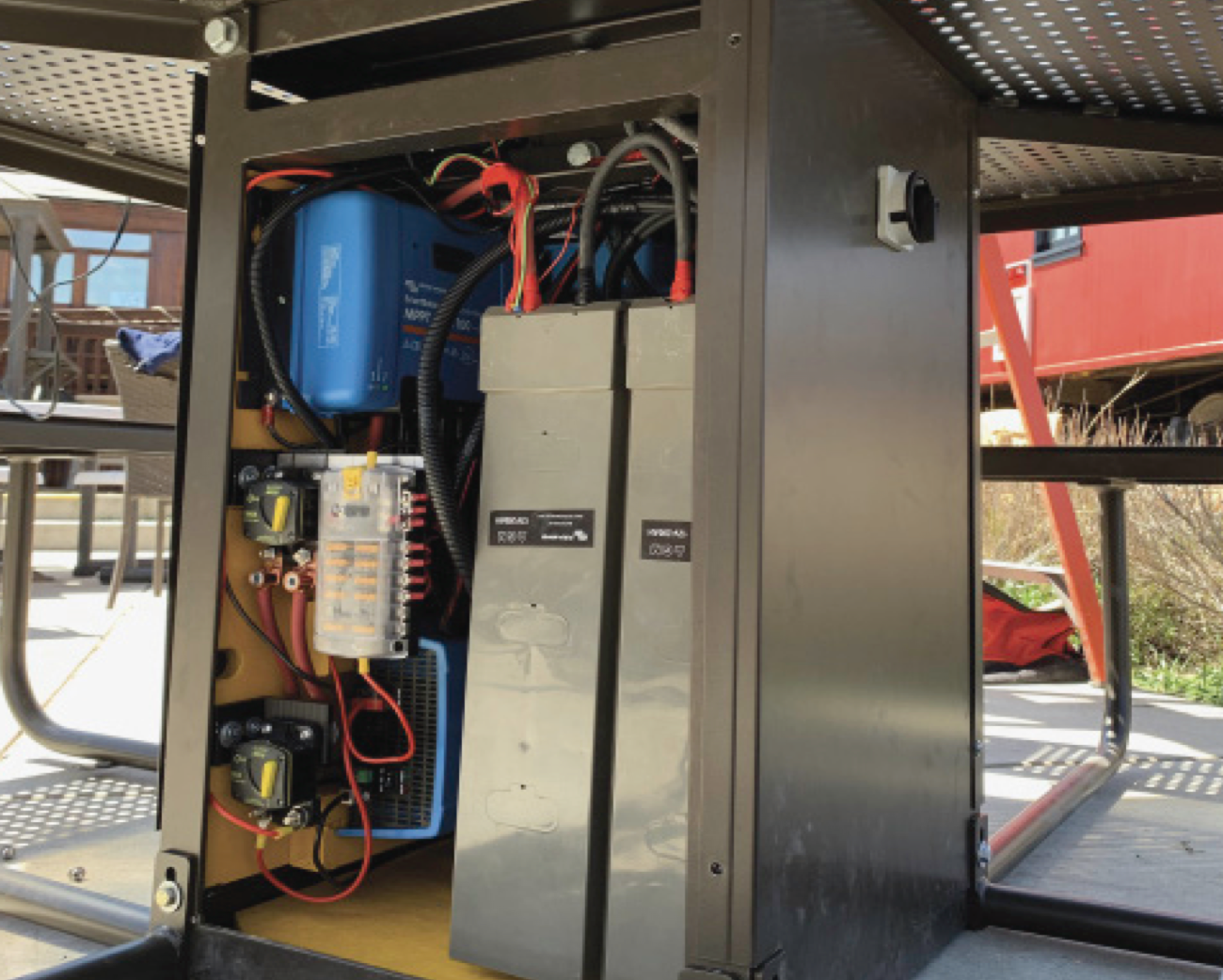 These utility benches are a great way for companies, public institutions, or hospitality providers to demonstrate their commitment to high levels of service for their customers and visitors.
At the Super Bowl teams come and teams go, but SolarZone are a fixture.
Let's soak up a bit of the atmosphere direct from the Super Bowl to get us in the mood.
The post Recharge your batteries at the Superbowl appeared first on Victron Energy.