There's an ambitious programme to bring PAYGo electricity to remote island communities in Myanmar.
Owing to the difficult terrain in Myanmar, currently only fifty per cent of the population has access to reliable energy.
But in the State of Tanintharyi – a region of over 800 islands – that is now changing, one mini grid at a time. Heading up this initiative Techno-Hill Engineering have a team of 40 engineers who are already widely experienced in large-systems having completed 20 mini grid infrastructures, capable of supplying 7,000 households with 24 hour power – which benefits over 40,000 people. Each sustainable mini grid, serving hundreds of households, breathes new life into communities whose nearest source of electricity was, previously, more than ten miles away.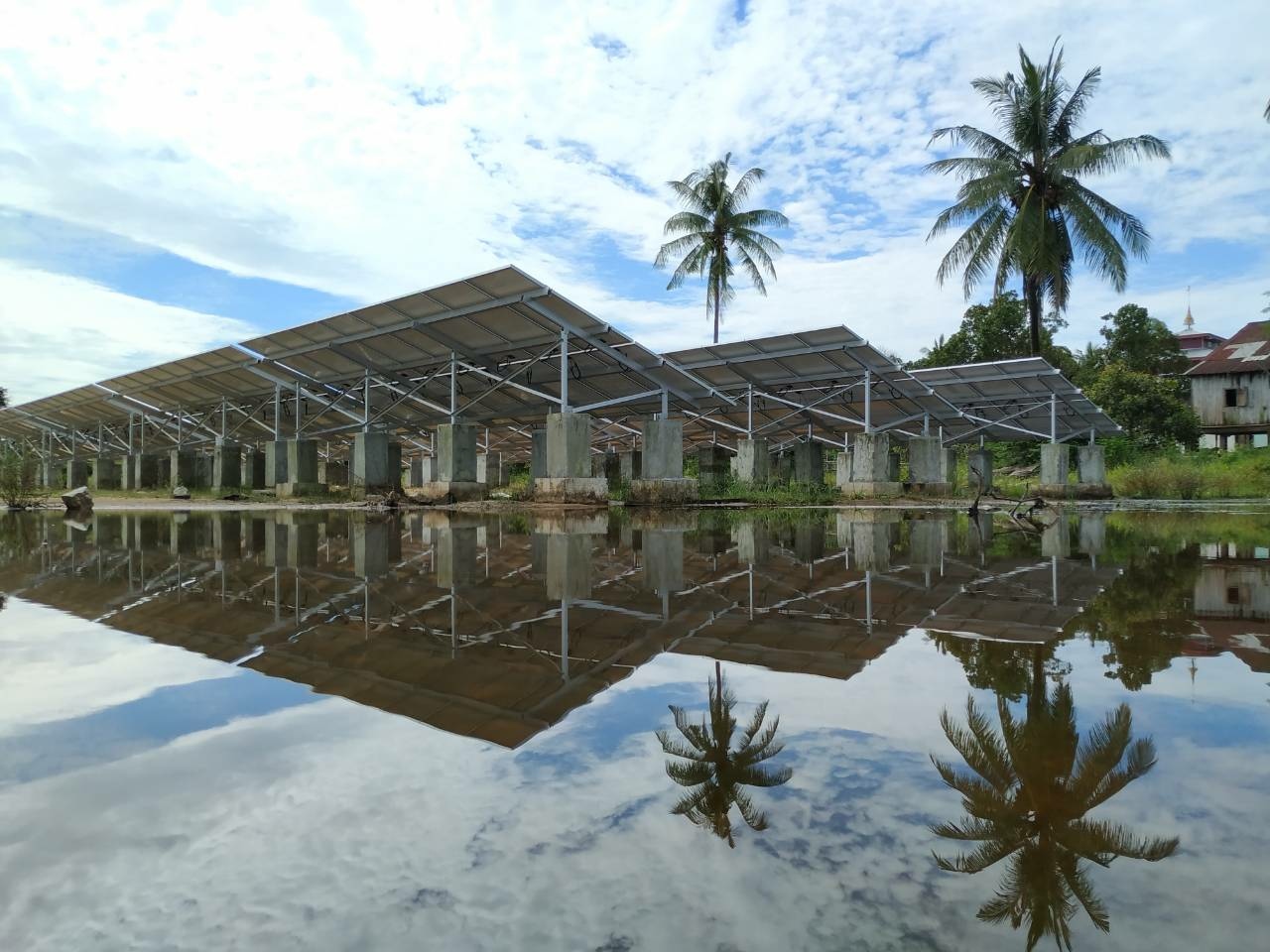 A typical installation has been installed at Kyauk Kar village which can offer up to 209kW of energy. The system comprises:
656 Solar Panels of 330Wp
144 Batteries – 2V 3000Ah
9 Victron Quattro Inverter/Chargers 15kVA
5 Fronius 27kWp Inverters
16 SmartSolar MPPT Solar Charge Controllers
1 back up Generator rated at 130kVA
The total capacity of the battery bank is 864 kWh, and the panels will often generate over 1500kWh of energy in a day.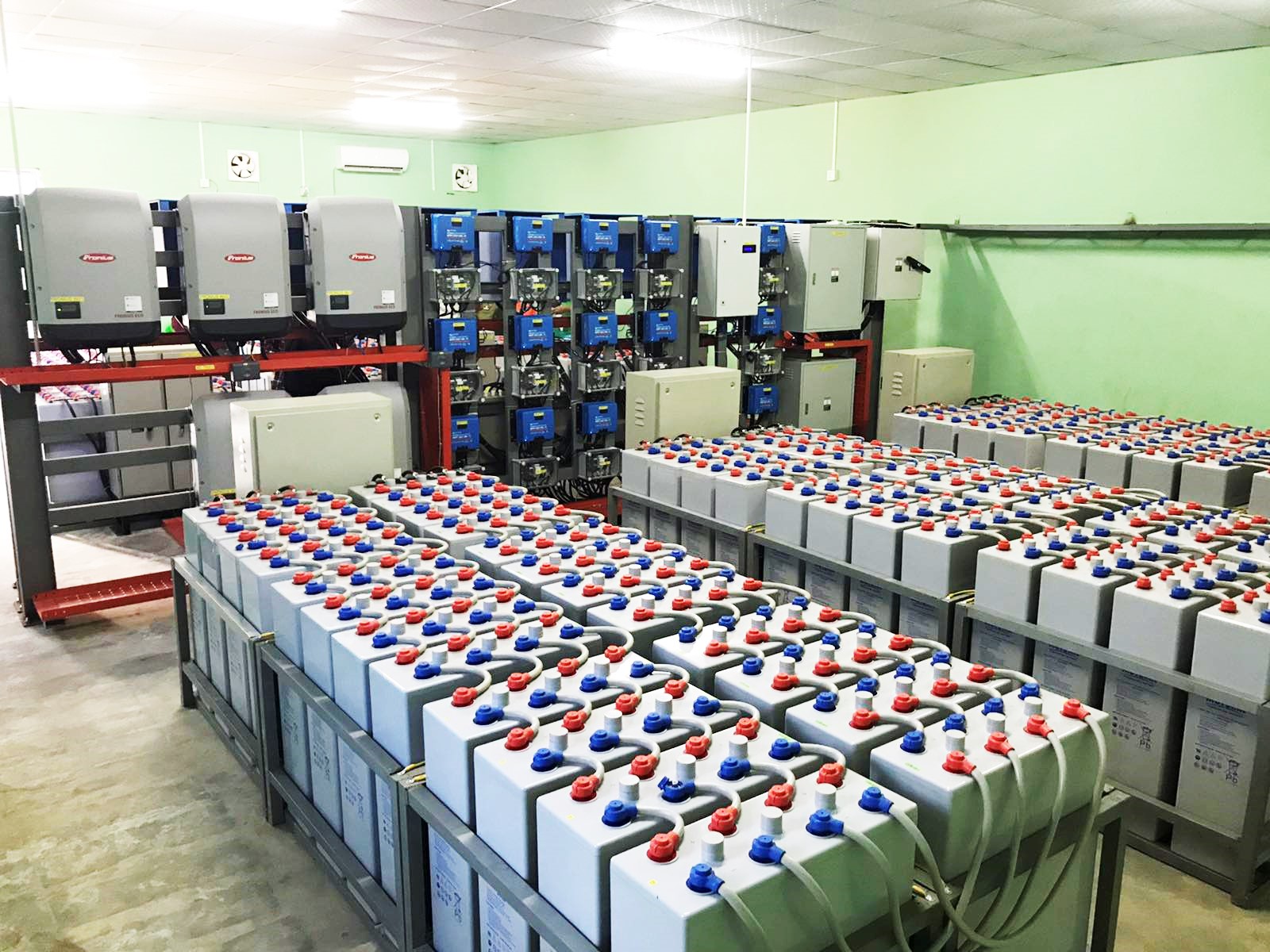 So far, over 2MW of installed energy power the lives of 40,000 people – at home, at work, and in school.
Techno-Hill's Managing Director, Barani Aung, explains that the cost of  each installation is part-funded by an 80% loan from several organisations: The World Bank; Myanmar's own domestic Department of Rural Development National Electrification Program; The Rockefeller Foundation; and Techno-Hill themselves. The remaining 20% is provided by the community.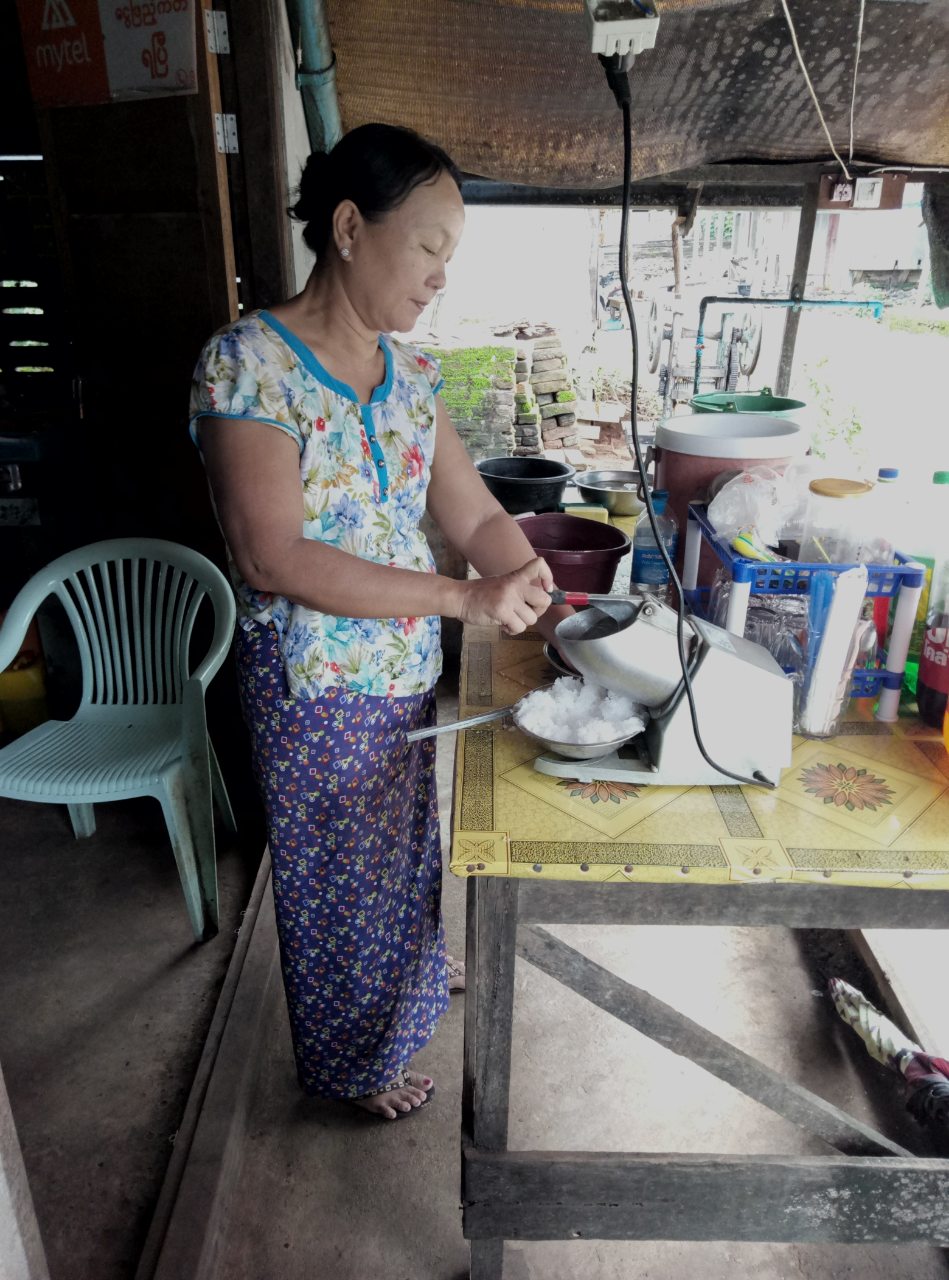 Once installed, local businesses and households pay for their electricity using a Pay As You Go meter at a cost of 26 cents (US) per kWh unit. Not only is that cost remarkably cheap compared with the 60c – 1USD per unit which some communities pay for diesel-generated electricity, but generators typically run for just 4 or 5 hours per day; the quality of the electricity produced is poor (causing frequent failures for users of computers, or other sensitive equipment); and diesel fuel itself has to be regularly transported from far away in order to keep the generators running. All of this places obvious restrictions on local development, meaning businesses cannot operate at full capacity, and households cannot always get their power when they most need it – at night.
Electricity is not the only benefit: Techno-Hill implement a program of on-going training, offering continual improvement for their engineers, and they educate local residents in the safe use of electricity.
What is electricity used for?
Of primary concern to Techno-Hill are the island communities where one of the most successful industries is fishing – Lobster and whitefish are caught and often exported to Thailand. The availability of a reliable source of electricity enables fisherman to achieve best prices by exporting premium-quality fish which have been kept in filtered, aerated tanks. Additional exports can be chilled, or frozen.
Catering, Engineering, Healthcare, Tourism, and Farming industries are all benefiting from high quality, cheap, reliable and green energy. Communities thrive – and their future is assured as children can extend their education after hours of darkness.  Electricity is bringing new equality too – empowering women to take control of their lives and use their full potential for the benefit of the whole community.
Indeed Barani Aung herself is part of a new wave of senior female company directors who are helping to shape the future of Myanmar. Having graduated in Singapore, Barani's background is in building data-centres for system control and monitoring. Unusually, a number of the organisations involved in the roll-out of Myanmar's sustainable energy programme are headed up by women. Barani says she recognises that she has more opportunity for personal development than did, for example, her mother. With one eye on the future Barani encourages her own daughter to observe the work she is doing, encouraging her young mind to see a world of possibility.
The Myanmar state of Tanintharyi has 80,000 households – about 400 villages – who have no access to power. Techno-Hill aim to connect 50,000 households by 2024 – well on the way to bringing electricity to all who need it for their development. Taking the country as a whole, there are 20,000 villages yet to be connected to an electricity supply. Myanmar sees the challenge in a positive light, aiming to become the leading country in the world for decentralised sustainable energy provision.
You can find out more about bringing power to remote locations by reading our Energy Access information pages.
We are grateful to Sasin Tipchai for the headline image.
The post Empowering Myanmar appeared first on Victron Energy.